Protection against elektrosmog and smartphone radiation for companies, hotels and public institutions
Individual and personalized concept from installation to certification
Available as surface mounting, switch cabinet installation or as a plug
Description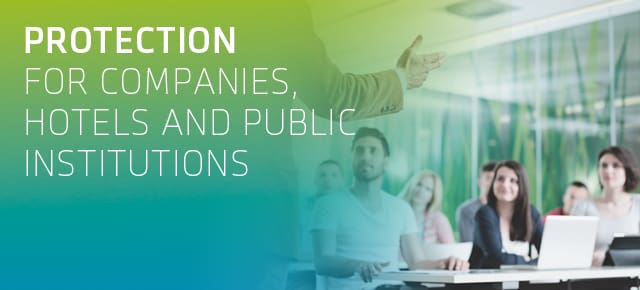 PROTECTION AGAINST ELECTROSMOG AND SMARTPHONE RADIATION FOR COMPANIES, HOTELS AND PUBLIC INSTITUTIONS
Entrepreneurs, hoteliers, school directors and university managers have a special interest in the well-being of their employees, guests and students. Accessibility at any location and coverage with sufficient bandwidth was decisive in the past. In the face of increased studies on the harmful effects of electromagnetic smog, people throughout the world are changing their opinions concerning this. Smartphone radiation was confirmed as a trigger for a brain tumor in Italy in a court judgment. A higher court in India has banned mobile telecommunications in schools and hospitals due to health risks. Israel and other countires ban WiFi in kindergartens and preschools and restricts its usage in schools. Responsible managers take measures for the protection against electromagnetic smog as part of corporate health management (BGM) in their company.
VIVOBASE CORPORATE is designed for hotels, companies and public institutions such as schools, universities, etc. and constantly ensures a low-radiation environment by the activation of a natural protective shield. The effectiveness of VIVOBASE has been proven in scientific studies.
THE SUITABLE VIVOBASE CORPORATE PACKAGE
VIVOBASE Corporate contains a personalized concept from installation to certification. You get a VIVOBASE Corporate certificate and seal of approval from us for two years.
Package 1
Corporate Device – 1
Variant as plug available (see image)
Assessment
Determination of requirements via precise measurements of the building using building plans or on-site visit
Certificate
Technical certification after successful installation for three years with VIVOBASE CORPORATE seal of approval; recertification after three years on request (payable
Package 2
Corporate Device – 2
Variant as surface mounting, switch cabinet installation (see image)
Assessment
Determination of requirements via precise measurements of the building using building plans or on-site visit
Installation
Proper installation and placement of VIVOBASE devices to achieve optimum efficiency
Certificate
Technical certification after successful installation for three years with VIVOBASE CORPORATE seal of approval; recertification after three years on request (payable)
Package 3
Corporate Device – 3
Variant as surface mounting, switch cabinet installation (see image)
Assessment
Determination of requirements via precise measurements of the building using building plans or on-site visit
Installation
Proper installation and placement of VIVOBASE devices to achieve optimum efficiency
Certificate
Technical certification after successful installation for three years with VIVOBASE CORPORATE seal of approval; recertification after three years on request (payable)
Sales partners with commission
Advertising materials, exhibition showcases, hotel vouchers with individual voucher codes and commission